We all use PC and often face different errors of missing files of different types and formats. d3dcompiler_43.dll Missing Error is one of these errors we face. In this article, we will provide you with a solution to this error. We will provide a list of multiple solutions, and you can choose one of these to fix the error.
This error is a common issue that often happens because the operating system cannot locate the required DLL file for a program or game. When The DLL file is missing, it gives this error to the users. Another reason behind this error could be a corrupt DLL file. The solution we are providing you will work in both cases.
Also Read- FIX: The Remote Computer Requires Network Level Authentication
Steps to Fix d3dcompiler_43.dll was not found in Windows 11/10
DLL files are also known as Dynamic Link Libraries, and DirectX uses them. These DLL files play a significant role in the functioning of different software and games. Because of this reason, DLL files are essential and required, and if they are missing, your machine will give you the d3dcompiler_43.dll Missing Error. Now let's see the methods to fix it.
Method 1 – Installing DirectX
Firstly, open google and search for DirectX software and click on the first site of Microsoft. This will redirect you to the Microsoft download page.
Scroll down and click on the download button to download it.
Secondly, you must double-click on the downloaded file to run the installer. Then, click on next and follow the setup instructions to complete it.
Once you complete the setup, The game or programs which gave the "d3dcompiler_43.dll Missing Error" will be fixed.
Most of the time, this method will resolve the error issue. However, even after using this method, you still get the d3dcompiler_43.dll missing error using this second method.
Method 2 – Download Specific DLL File
In this method, firstly, go google and search for d3dcompiler_43.dll and click on the first site named dll-files.com.
Now scroll down and Select 32-bit or 64-bit files according to your os architecture. After that, click on the download option. A zip folder that contains the DLL will be downloaded from the site.
Secondly, you need to open the zip with any unzip software of your choice. After unzipping the downloaded folder, open it and copy the d3dcompiler_43.dll file inside it.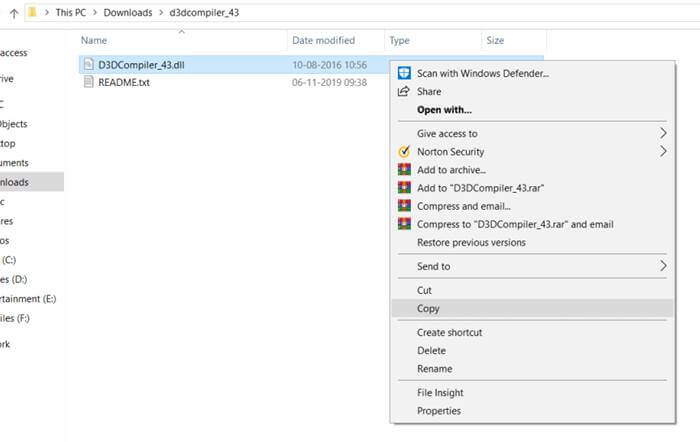 Thirdly, go to your C drive and open the Windows -> System32 folder. This folder contains all the DLL files. Paste the d3dcompiler_43.dll Missing Error you copied at first. Press on Continue on the dialogue box to complete the process.
That's all this way. After that, you can resolve the d3dcompiler_43.dll missing error. Still, if it persists, follow the below-mentioned steps after completing method 2.
Open Drive C -> Windows -> SysWOW64 and paste the same copied d3dcompiler_43.dll file you pasted in the System32 folder.
Note: We used windows 10 for this process, and another operating system might have different options and methods, but this will work in most Windows operating systems.
Also Read- Best DLL Fixer Software For Windows
Method 3 – Run System Scan
Firstly, Press Windows + R key to open the Run dialog box.
Now enter CMD and hit enter. Then you need to write the below command.

DISM.exe /Online /Cleanup-image /Restorehealth

After that, enter sfc /scannow and hit enter button. Then it will start scanning your system files.
System file checker is the inbuilt tool to check various types of errors or missing files in the Windows environment. It will ensure that all the DLL files and system files are in their place. If not, it will fix it.
From Editor's Desk
That's all. By following the steps we provided, your error will be resolved. Download DirectX from the Microsoft site as other sites might have software with viruses and malware. We suggest you download it from verified sources only.
When you copy the d3dcompiler_43.dll file into the system folders, be careful and do not delete or modify any other files as it might cause other errors and you have to face more errors.