One of the significant issues that people have with online stores is that sometimes they lack customization options.
However, that is not an issue anymore because there are a lot of print-on-demand sites that allow you to print customized designs on T-Shirts, cups, and other items.
One of the famous sites is RedBubble, and the great thing about this site is that it connects many artists and designers with their target audiences.
The premise of the online store is simple. There are a lot of artists and designers who upload their work there and if a customer searches for a product and then finds a good product, the designer of that product gets paid and the customer receives the product of their liking.
Best Print-on-Demand Alternative Sites Like RedBubble in 2023
In this guide, you will find the list of the best print-on-demand sites like RedBubble, from where you can buy the products you like and get a lot of customizations. So without any further ado, here are the best sites:
1. Society6
With over 3 million monthly users and a strong brand name, Society6 is an easy recommendation for the best print-on-demand sites like RedBubble.
It has a wide range of products, including wall art, yoga mats, stickers, furniture, home decor, office decor, bed and bath products, etc. 
The site knows the importance of customizable products and why people need them. That is why it has such a big name in the international market.
On top of that, the prices on Society6 are always very competitive and as a result, users get the best value. Then there are a lot of sales and incentives to help drive conversions.
2. Zazzle
On Zazzle, you will find countless designers and artists at your fingertips. Those kinds of options help you get pretty much anything that you can imagine.
So it doesn't matter if you want a designer mug or a wallet; Zazzle has everything. More importantly, they have a lot of passionate designers who provide you with the best products. 
This site quickly gets over 7 million visitors in a month and if you are a big fan of custom-made products, then this is the site for you.
The site is also an excellent platform for anyone looking to make money. You can be a designer, a manufacturer, or an affiliate marketer for Zazzle products to make money. 
3. Printify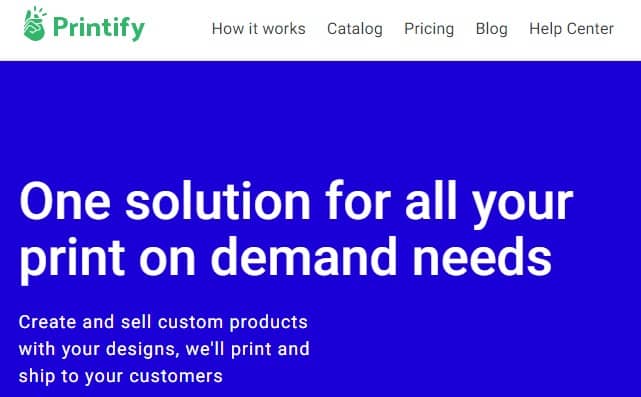 This platform is great if you want to open your POD store and control the pricing and marketing of your products. However, that is when Printify comes into the picture.
It is a POD integration service for eCommerce businesses that can be beneficial. 
Printify gives you more control over the sales process than other marketplaces. You can also integrate Prinify with some giant eCommerce marketplaces like Shopify, WordPress, Wix, eBay, etc.
If you are ambitious and want to start an online business by selling customized products, then this platform will be great for you. 
4. TeeSpring
Earlier known as TeeSpring, Spring is a popular eCommerce marketplace to get the best-customized products. You can find many unique artists selling their amazing work on the platform. From apparel to phone cases, they sell it all. 
The great thing about this site is that it gives creators a chance to shine and put their thoughts and ideas in a creative form out there in the world.
As a designer, you can design your product, set a price, and then publish it on the site to see how it performs. Users also get the best quality products when they shop from Spring. 
5. Merch by Amazon
Merch by Amazon is more than your average print-on-demand site. The reason is that when you sign up with this service, customers can access all the print-on-demand products from Amazon.com. So, as an artist, you get the best exposure to the most extensive customer base possible. 
The products sold with this program are also eligible for Amazon Prime, which gives a stronger brand image and can drive many customers to your products.
On top of that, you also get all the benefits, such as fast delivery, etc., from Amazon itself. Also, Amazon allows you to set the price for your products, which is great for sellers. 
6. Design by Humans
Next up on the list is Design by Humans, an excellent print-on-demand site. You will find some of the most stunning and hottest customized products for men and women on this site. This site sells everything, from T-shirts to phone covers and wall art. 
As a customer, you get some great products designed by creative people. The site now has over 2000 unique designs, so you can always find something for yourself on this site whether you are a student or a professional. 
7. Threadless
Threadless is another option like Redbubble, where you can sell your designs and earn money. If your design is good or unique, people will vote for it, which can help you increase.
When you upload your design to Threadless and select a product to display, the site will show the price to create that product. As a seller, you can set your price for the product based on your desired profit margin.