Turbo VPN is an app that allows the users to browse the private IP address. Turbo VPN is the most popular VPN which has millions of downloads on the Play Store. It is a free VPN, and it does not require registration also. One can directly use the app by just downloading it. However, as per reports, it is said that the app is linked with Chinese companies, even though the company is registered in Singapore. So, for the privacy policy, it is better to use other apps instead of VPN.
If you are also worried about your privacy, then it is better to use another VPN. But which one is the best and has excellent features? Don't worry, here we have brought a list of best Turbo VPN alternatives which you can use without worrying about security. Check out the list of best Free Alternatives to Turbo VPN.
List of Best Free Turbo VPN Alternatives to Use in 2020:-
All these apps are free to use and can be used on Android or iOS devices.
1. TunnelBear
TunnelBear is not an entirely free VPN app. However, it has a free trial version with a 500MB data limit in a month. The data limit per month is quite less as compared to Turbo VPN.
In the TunnelBear app, you will get a robust AES 256-bit encryption for all your activities. DNS leak prevention is also there. And if the monthly data limit is over, you can share the TunnelBear VPN app on your social media platforms and earn more data.
2. Hotspot Shield
HotSpot Shield offers unlimited data just like Turbo VPN. The speed and the servers are always up, which gives excellent performance. But, remember that, in the free service you can only use servers from the US region. And one of the best things about Hotspot Shield is that it offers the same privacy and security features in both free and premium versions.
Even though Hotspot Shield provides unlimited data in US regions server only, it satisfies most of the user's needs.  Overall, Hotspot Shield VPN is one of the best free VPN to use.
3. ProtonVPN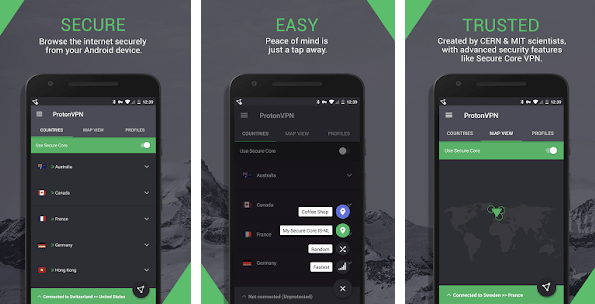 Proton VPN is one of the best alternatives to Turbo VPN. It offers unlimited data, high speed, and many servers can be used around the world. With ProtonVPN, you get multiple servers to use from 3 locations in the US, Japan, and the Netherlands. The company is in Switzerland, and you are protected by strong privacy.
It is one of the most trusted VPNs as it is an open-sourced VPN. However, to use this VPN, you need to create an account. Do not worry about your privacy as it does not share your data with anyone.
4. Psiphon Pro
One of the most secure VPN is Psiphon Pro VPN. It started as a proxy system at the University of Toronto, but now it has evolved into a VPN app. Psiphon Pro is an open-source app, and it does not log any data of the user. This VPN uses different technologies like tunneling, HTTP Proxy, and SSH to avoid internet censorship. Moreover, there is no data limit set, and the speed is 2MBps.
The app cares about the user's privacy policy, and it clearly says that nothing shared about security protocol or data sizes to anyone. Overall, the app is a powerful VPN and is the best alternative to Turbo VPN.
5. Windscribe
Windscribe gives access to over 10 countries around the world. And it has a capacity of 10GB data per month. It gives you access to high-speed VPN servers. To use all the free services, you need to create an account on Windscribe.
6. Betternet
Betternet offers unlimited data without worrying about security, and you don't need to sign up to use the app. We can say that it is exactly the same as Turbo VPN; the only difference is about the privacy of the data. Manually, you cannot select the server location in Betternet VPN. And it chooses the location on its own.
7. Kaspersky VPN
Use Kaspersky VPN to protect your online security and privacy. Kaspersky is a free VPN app, and the users can enhance protection on the web. This VPN allows just 200MB data per day.
It can be enough if you want to use less VPN. It protects you from Hackers and malware while you use the internet browser. However, in the free trial plan, you can't choose the server location.
8. Hide.me
Hide.me offers you 10GB data per month. To use this VPN, you don't need to sign up. It offers multiples servers from 5 different regions around the world. Moreover, the company is safe and secure, and it does not track any activity of the users.
Related Articles