Who comes close to YouTube regarding the best video streaming services? YouTube is the best video streaming website year after year, with numerous free and paid content. It has over 2.6 billion users worldwide, ten times more than Netflix.
However, it also has regional restrictions in several locations worldwide. In earlier days, YouTube was blocked in almost every country for some reason. Right now relatively less than before.
But there is always a way to access YouTube from anywhere. Therefore, proxy or mirror sites come in handy. Thus, we have listed the best free YouTube proxy sites lists.
Best Free YouTube Proxy 2023
After much research and digging into the ground of proxy or mirror site lists. We have curated this list of free YouTube proxy sites. All of these have worked fine until now. Let's explore.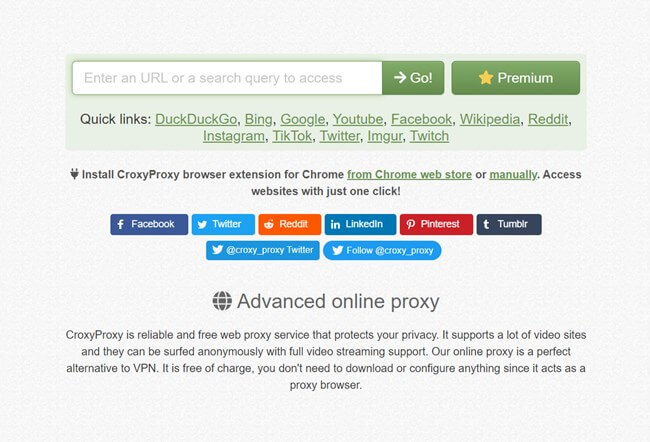 On top of the list, CroxyProxy is one of the most reliable and secure proxy websites that can help browse many sites, such as Facebook, YouTube, Google, Gmail, Twitter, and YouTube. So visiting YouTube becomes easier. Just hit the YouTube link from the homepage.
One of the best talking about this proxy site is that it uses HTML 5, which is why we can enjoy YouTube videos without compromising the quality. Even though its user interface is very clean, users face some issues navigating the site smoothly. However, you can use its Chrome extension.
How to Use CroxyProxy
Go to the CroxyProxy website.
Enter the website URL you want to access in the search bar.
Choose the server location from the drop-down menu.
Click on "Go" to access the website through the proxy.
If you are looking for a YouTube proxy to help unblock YouTube, then KProxy is free to use on your service. It will help you bypass government censorship and workplace blockage.
It unblocks YouTube and helps you hide your IP and personal information, making you untraceable to ISP. Moreover, it has extensions on chrome, Microsoft edge, and Firefox.
But it is not as fast as other proxies. If you are facing buffering issues, you should opt for other proxy sites. Otherwise, you can come under its paid plan, which provides a relatively good internet connection.
Genmirror is one of the best YouTube proxy sites on our list. We can bet on it to unlock YouTube effectively. It uses SSL proxy technology, which works like a guard to protect your data and keep it secure from unwanted attacks or viruses.
With the help of this site, you are ready to roam on other blocked websites along with YouTube. Just because it is a proxy site, you can surf YouTube anonymously. Talking about its compatibility, it supports all browsers and even mobile.
HMA stands for Hide My Ass, a trusted proxy site for unblocked YouTube. It will access any blocked website you want. You can opt for another from its server list if a server is not working. And it is quite easy to choose from.
HMA is one of the veterans and is highly popular worldwide. That's why you may feel a low internet connection due to overcrowding. You can use its paid plan if you don't compromise the YouTube experience. But we have another free option to access YouTube from non-accessible regions.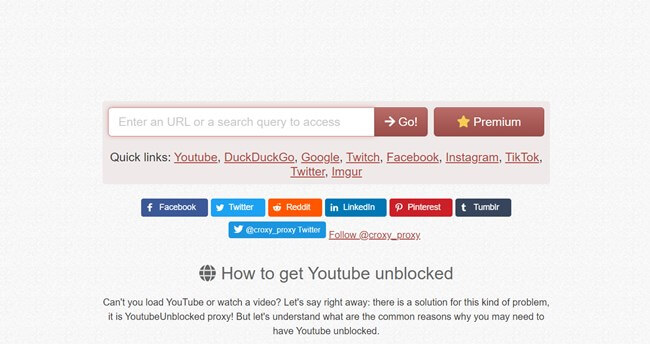 As its name suggests, YouTube Unblocked is one of the finest websites to access the leading video streaming platform. You can also access various other websites using this proxy site. However, accessing YouTube Unblocked is free of cost. Thus, you can use it without registration.
Although it has a premium version, which may help you choose faster servers and remove ads. Otherwise, the proxy site maintains to keep your IP secret from ISP, government censorship, and workplace block. Overall, it is an impressive proxy that seems like YouTube's original website.
AtozProxy is another considerable YouTube proxy site that you can use today. Regardless of location, internet connectivity, and devices, you can watch YouTube videos with AtozProxy. It uses one of the fast proxy solutions to watch YouTube videos without buffering a lot.
When you access YouTube from its server, you become the ghost of the internet. No one can track you. Besides this, it has secure and reliable browsing with SSL proxy technology. On top of that, its user interface is also beginner friendly.
ProxySite is a widely used web proxy that circumvents regional restrictions on access to prohibited websites. It hides the user's location and IP address by interposing their device and the website.
ProxySite's straightforward design is one of its greatest strengths, allowing even those with little computer experience to use it effectively. SSL encryption for extra safety, several server locations, and a toggle for cookies are just a few of its features.
How Does YouTube Proxy Work?
The proxy works as an agent between the data sender and receiver. If you use a proxy network, your request goes through its server and IP address to reach the destination. Thus, ISP and others can't trace your history and activity.
YouTube Proxy works the same. When we use a YouTube proxy, our request is routed to its IP address and returns similarly. Therefore, we get a similar experience of YouTube using YouTube proxy sites.
Final Words
So these are the best free YouTube proxy sites. All proxy sites have been working fine until now. We also include youtube mirrors that will help you to unblock youtube. If you are facing trouble, let us know in the comment section.