Every project needs smart planning and seamless communication. These are the feature of every project management software must-have. Asana is one such project management tool that is used by the majority of companies.
Despite all its features, Asana has some limitations as well. That is why we have compiled a list of the best Asana alternatives. You can try these project management tools if you're looking for good project management tools.
Most project managers have the same basic set of functionalities. However, a few changes and features stand each of them apart. For example, suppose you're a project manager looking for a great tool to manage your ongoing projects.
Then we have some great Project manager tool recommendations just for you. These tools will allow you to plan, manage and keep track of all the projects in one dashboard. Some software even has group sharing and tracking facilities which might be very helpful for large projects.
Also Read- Best Productivity Apps for Android
List of Best Asana Alternatives You Can Use in 2022
Asana is a great project management software. But it lacks essential features such as reporting, visualization, etc. However, other great Asana alternatives you can try if you want more features and a robust workspace.
1. Wrike
Wrike is an easy-to-use project management application and offers almost all the features that Asana does. It comes with a simple to use yet friendly interactive workspace. The project data is easy to understand with the help of pie and Gantt charts.
Wrike has full-on customization options and offers full flexibility to adjust everything in an ongoing project. The ability to check project schedules and setting up dependencies is a great feature in Wrike.
Pros:
Interactive Gantt charts
Easy to use interface
Customizable dashboard
Visit: Website 
2. Trello
If you're looking for a smooth sailing collaboration experience in your projects, then Trello is the way to go. Trello is a simple to use project management software that works on cards and lists.
You can create and manage projects faster and assign different job roles. However, the best and important feature of Trello is its integration with other team members and synchronization capabilities. On top of these features, it supports the major 21 languages as well.
Pros:
Probably the best Kanban-based project management tool
Supports ample languages for cross-regional projects
Visit: Website
Also Read- Best Trello Alternatives For Project Management
3. Workzone
Workzone is the best software for lazy managers. Don't get me wrong, as WorkZone is another best alternative to Asana. It is feature-packed and is very easy to learn and operate.
Unlike other project management tools, it shows the progress of projects via pie charts and graphs. With just a single dashboard, you can look at current projects, how much they are completed, and other such stats.
Pros:
The dashboard gives a full overview of all projects
Easy Gantt charts and pie chart management
Easy to understand resource reports
Visit: Website 
4. Zoho Projects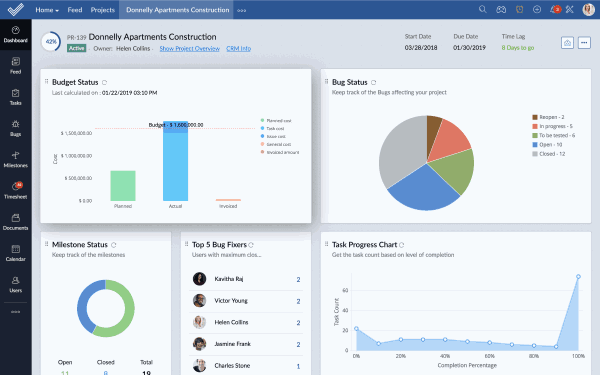 You might have heard about Zoho before. They offer complete business solutions, including website, server, and other management tools. Zoho Projects is one such tool that offers you great project management services.
The best part about Zoho Projects is how flexible they are. You can create endless projects and monitor them without any complex data. However, there is a steep learning curve to get the best out of this software.
Pros:
Efficient project tracking through
Effective task management system
Visit: Website
5. GanttPRO
GanttPRO is an intuitive Gantt chart maker for project planning. One of the core features that Asana lacks, GanttPRO offers in one of the best ways in the market. A Gantt chart in GanttPRO is very intuitive and visually appealing even for those who see and use charts for the first time.
Besides task management, you can use team management and collaboration, resource management and workload, time and progress tracking. Among other great features, GanttPRO offers advanced export and project sharing.
Pros:
Great Gantt chart timeline

Lots of features for the comprehensive project and team management

Short learning curve
Visit: Website
6. ProofHub
ProofHub is something you might want to consider if you're looking for a similar alternative to Asana software. It contains all the major features and tools to boost your productivity and management skills.
You can create and monitor multiple projects in one go. You can also download calendars associated with the projects to manage them offline. In addition, ProofHub offers comprehensive charts and reports which are easy to read and understand.
Pros:
Fantastic project visualization tools
Collaboration tools for both teams and clients
Visit: Website 
7. ProWorkflow
The name says it is a Pro Workflow program designed to make your project management work easier than ever. It contains multiple features and tools like notes, easy editing and bird view reports, etc., to make the managing process easy.
All the major details of a particular are present in one dashboard for easy access. Rescheduling and maintaining projects are much easier with ProWorkflow.
Pros:
Dashboard and timeline support
Built-in time tracking sheets and invoice manager
Resource and time management tools
Visit: Website 
8. Todoist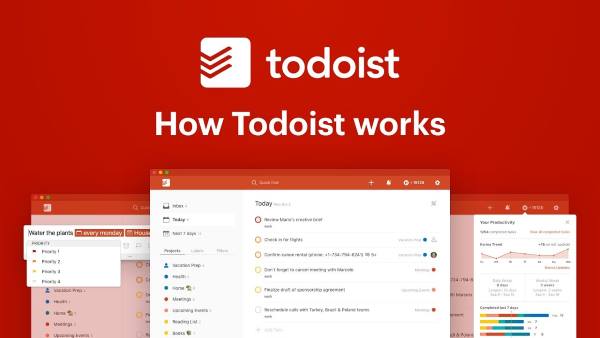 Todoist is a simple project management software mostly used in small projects. Adding projects and job roles to a small to-do list makes it most unique from other Asana alternatives.
If you are looking for multi-purpose software for projects, organize and assign to0do lists, then Todoist is a great option. It also offers a birds-eye view of due dates and recurring dates for certain projects and assignments.
Pros:
Easy to use with a good UI
Ideal for small teams or personal projects
Visit: Website 
9. Scoro
Scoro is a multipurpose work management software. It combines project planning, time tracking, billing, and contact management. It offers a broad range of products from project management to CRM. Furthermore, Scoro is a multinational company. Its offices are in London, New York, Tallinn, Riga, and Vilnius.
However, the headquarters of this company is in London, United Kingdom. It was founded in 2013 by Fred Krieger in the place named Tallinn ( ESTONIA). The software has one great advantage, i.e., if u want to keep your CRM with the project management task, it excels in handling client work as the software combines time tracking, billing, quoting, and invoicing.
Pros:
Easy to use with a good UI
Ideal for small teams or personal projects
Visit: Website
10. Microsoft Project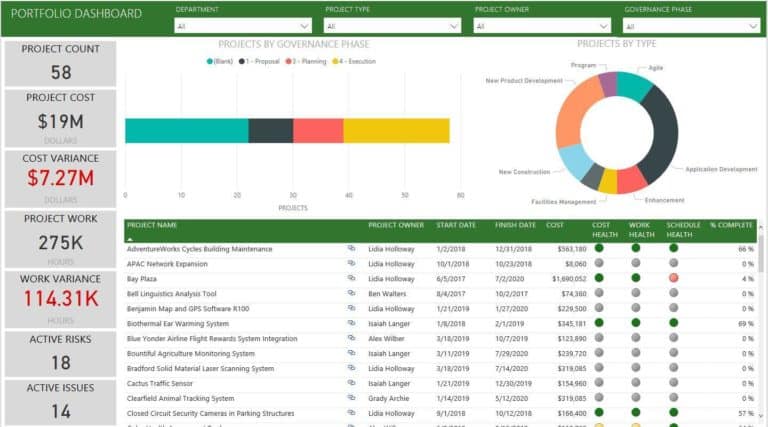 As the name goes, Microsoft Project is developed and sold by Microsoft. It is basically a project management software designed to assist a project manager in developing a schedule, tracking progress, managing budget, and analyzing workloads.
It is the original project managing software from around 1984. It's still popular today in large organizations with formal PMO's and PMP's. The Microsoft project has almost all the functions you need, and it also integrates well with excel and outlook. In addition, it has many great features like Resource management, planning, and scheduling tools.
Pros:
Built-in time tracking sheets and invoice manager
Resource and time management tools
Visit: Website