Do you often risk your life while answering phone calls while driving your car? Of course, nobody would recommend you to do such a risky job that may end up being fatal for you and your family. But you may say that sometimes urgent calls are required to be answered. For this reason, Auto Answer Call Apps are beneficial to use.
In most countries, maximum road accidents occur for attending calls at the wrong place. Due to this, in many regions using mobile phones is strictly prohibited as per traffic laws. The Auto Answer Call App helps you to automatically receive calls or reject them with a voice message while you are driving or engaged in some work.
These apps also prove helpful in other scenarios. For example, if you are at the gym and unable to touch your phone, the applicants will send a voice note to the caller to call you back later. The list below contains many helpful auto-answer call apps for Android users that will make your life easier and safe.
Also Read- Best Automatic Call Recorder Apps For Android
List of Best Auto Call Answering Apps For Android
Do It Later

Auto Answer & Callback by magdelphi

Vani Dialer

Auto Answer Call by ForU Naveen

MotoAnswer

Auto Call Answer

Auto Voice Calls Answer
HandsFree Answer (Auto Answer)
Auto Ear Pickup Call Gesture
Auto Redial
1. Do It Later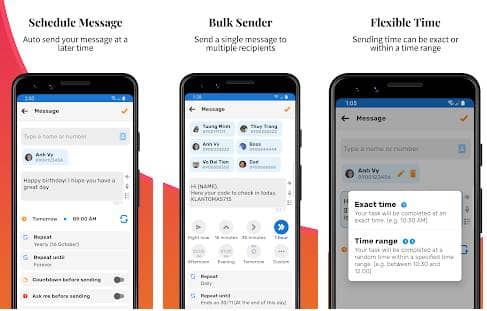 If you are too busy in your job that you don't get enough time to reply to calls and messages, then Do It Later will be the perfect app for you.
The app automatically messages or sends an email to all the callers who tried to contact you. In addition, you can send a specific time range for reverting to your contacts.
Do It Later also allows you to set a time range during which all your incoming calls will be received. You can also use it for mass mailing and sending voice clips to a number of people simultaneously.
Price: Free, offers in-app purchases
2. Auto Answer & Callback by magdelphi
This auto-answer call app proves helpful for those who use hands-free headsets or speakers while driving. Auto Answer And Callback can answer all the calls while you are driving and secure your road safety. In addition, all your calls will be answered with a pre-recorded message so that the caller can contact you later.
The best part of this application is that it can run on your smartphone's background, allowing you to do other tasks on your phone. However, Auto Answer And Callback may not be compatible with every smartphone, so you must look for its compatibility beforehand. Else it is a good option to choose.
There is also an option to auto-answer calls to a specific number so you can pick your favorites and set specific voice replies for those contacts.
Price: Free, offers in-app purchases
3. Vani Dialer
It is a straightforward Auto Answer call app that makes your device totally hands-free while using a headset. Vani Dialer will automatically receive all your calls, and you can directly start talking with the caller. The app connects with the external device via Bluetooth.
You can create a list inside the Vani Dialer of contacts whose calls will be answered right away. A separate list of contacts will give an auto-generated reply to the caller while you are busy. All the functionalities are easy to use and simple.
Price: Free, offers in-app purchases
Auto Answer Call is a unique app that helps you to receive incoming calls without touching your phone screen. All you have to do is bring your smartphone near your ears, the call will be received, and you can start your conversation. In addition, this app relieves you from getting distracted while pressing the answering button whenever you receive a call.
Some additional features are included in the app, like toggle speaker mode, blink flashlights on incoming calls, reject incoming calls via SMS, etc. Setting up the Auto Answer Call app is pretty simple, as you only have to follow some simple steps.
Price: Free, offers in-app purchases
5. MotoAnswer
It is a handy Auto Answer call application with several valuable functionalities to provide. You can use voice commands to control MotoAnswer for receiving or declining incoming voice calls. For this purpose, you have to configure your voice command from the app's settings.
MotoAnswer will also block spam calls and reject calls from those contracts you have included in the blocklist. However, while using voice commands, your pronunciation must be clear and loud for easy to distinguish by the application. Therefore, it is recommended to use those words that are easy to pronounce. 
Price: Free, offers in-app purchases
6. Auto Call Answer
Our next Auto Answer call app will let you receive incoming calls even if both hands are engaged. Auto Answer call automatically receives the call and puts it on speaker for your convenience. You will love using this application if you don't own a Bluetooth headset.
Moreover, some extra features make it handier to use, like before receiving a call, you will hear the caller's name, create a blocklist, etc. You can also add numbers to a list of contacts from which calls will not be received automatically.
Price: Free, offers in-app purchases.
7. Auto Voice Calls Answer
With many features, Auto Voice Calls Answer also deserves a spot as an auto call answering app for Android. Using the app, you can manage your calls without any internet connection – especially when you're busy with other tasks using the phone button.
Along with that, you can also manage SMS using the auto-reply feature. Depending on your situation, either you can accept the call or reject it through voice command. Not only that, you can also turn on and off, mute, hold, and speak conveniently.
8. HandsFree Answer (Auto Answer)
Even though HandFree Answer isn't updated for a while, it's still relevant to users for its remarkable service. If you are driving and biking a lot, even not so frequently, the app is perfectly fine to automate your calls seamlessly.
It uses a low-power accelerometer feature through your phone to detect when you are driving. Overall, a nice and perfect app to turn on automatically before and after driving or biking.
9. Auto Ear Pickup Call Gesture
If you're looking for a comprehensive auto-calling app, then look no further than Auto Ear Pickup Call Gesture. It's one of the easiest and simplest apps to manage your calls without touching your phone.
Just pick up your phone and close it to your ears, and you're good to go. Other than that, various other features are also available such as the flashlight on while calling and setting the app toggle for direct speaker.
10. Auto Redial
Auto Redial is a unique app that differs from others in its functionality. It allows you to set up automated dialing for specific numbers, and you can even schedule auto-dialing with a single click. The app supports multiple SIM cards if you have more than one.
To begin using the app, you need to grant the necessary permissions for it to function properly. Additionally, you can conveniently enable or disable the speaker through the app. What's more, it's a handy app with an auto-call scheduling feature.