Online games are rising at a pace day by day. They offer better graphics quality and various game modes and provide room for connecting with the world. Then what about offline games?
Without a strong internet connection, can't you play PC games? Being a windows user, you don't have to rely on online games. Windows is known as gamers PARADISE – be it online or offline games.
Countless offline games are available that will shock you. All multiplayer games to super-fast racing games are conveniently available on Windows. Thus, we have come up with the best offline games for Windows you should play with joy.
Best Offline Games for Windows PC
Windows OS has many games to play offline compared to other contemporary OS. But as usual, finding the best suitable games that match your needs is really complicated task. Therefore, here's the recommendation for the best free offline games for Windows.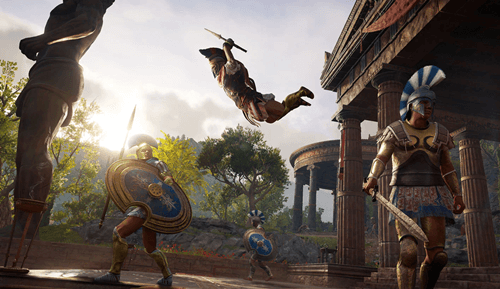 Do you remember Spartan? The heroic deeds of Spartans always empower and inspire us. The Assassin's Creed Odyssey is based on the mythological war between Athens and the Spartans to claim Greece.
The game is a remarkably hit among game enthusiasts and all games under its name. In the epic journey to win Greece, choose a character between Alexios and Kassandra. Most of the gameplay is in the water, which is really exciting.
The developer has done a super job with the graphics as well. You can try Assasins' Creed Odyssey on Windows without the internet,
An uncountable excitement and enjoyment are just waiting for you in The Witcher 3: Wild Hunt, the sequel to The Witcher 2. Back in 2015, the game was far ahead of other contemporary games. The game plot and mission, and open-space gameplay are always admirable.
The cast is well-written and will take you through an emotional journey. Even all casts motivate you. As you progress through the game, each character will grow as well. However, if you are searching for something historic, characteristic, and beautifully designed, then The Witcher 3 surely deserves your attention.
One after one, Resident Evil 7 is another missionary survival game on our list. The Resident Evil franchise already had in the market, but the sequel of Resident 5 and 6 increased its market drastically.
Resident Evil 7 improved in every area, which was lacking in the previous two editions. The game is really scary and fun altogether. Being the game's protagonist, you must fight against the baker's family to rescue your missing wife.
Above all, significant gameplay has an imaginary story and attractive characters with frightening costumes. Apart from this, it has top-notch graphics to feel realistic.
If you are looking for a story to based game? Then, The Walking Dead is a story-based survival game inspired by The Walking Dead comic series.
Being the game's hero, you must work with other survivors to fight against zombies. Protecting Clementine, an orphan girl, will be the main motif. Besides this, it has excellent GUI and sounds as well.
No wonder Snipper Fury is one of the best offline shooting games for Windows. It has several game modes, such as PvP, Leagues, and Clan Wars. However, you are deployed as the world's best snipper to fight against evils.
Well, it has more than 500 missions and many more immersive events that will make a snipping freak. There are numerous weapon collections to use. As long as you level up your shooting skills, you get them one by one. To sum up, an excellent shooting game you should consider.
Is any football fan in here, like me? If you tell me to play this game, I can continue without interruption. FIFA 09, offered by Electronic Arts, and released in 2008, was a truly sublime football video game. But still relevant for Windows offline games.
Furthermore, you will get more than 300 gameplay features. All of your favorite football heroes are featured in the team. Other than that, the GUI is amazing. And the cheer-up sound from the stadium will give a realistic gaming experience.
Plant vs Zombies is the most entertaining game on our list. You have to be ready with your plants to face zombies who are coming towards your home to invade. With your existing arsenal of plants, you have to defeat zombies. You will get more plants with different abilities and power of each win.
The exciting thing is about its cool stuff. Also, EA has used superb graphics to give an immersive feeling. Talking about the sound will exhilarate you. All in all, Plants vs. Zombies is a clinical power defense game that can play all ages and people and is one of the best offline games on Windows.
Asphalt series is one of my personal favorite games. In general, Asphalt is one widely regarded game on mobile, but you can play on PC more efficiently with a board screen. Consequently, the game has been awarded many times for superb visuals and graphics.
Moreover, it featured 300+ official speed machines such as Ferrari, Ducati, Lamborghini, and McLaren, and the list continues. Its intense arcade game and high-octane multiplayer experience will blow your mind.
Call of Duty Modern Warfare is one of the best battle-royal games under the Call of Duty franchise. Besides its other editions, Warfare has developed new storylines, brand-new characters, weapons, gunplay, movement, and other things.
However, it has many game modes to explore, such as mission mode, PvP, training mode, and map mode, and you can with a team. The most important thing is that you can play this game offline.
Do you love puzzle games? Then, there is nothing like Candy Crush Saga. It is a very interesting and sweet game as it has sweet sounds inside the game. In the game, you need to match three candies in a row to blast.
Stage after stage, the harder stage will come to you to be blasted. You must be sharp, intelligent, and a quick decision-maker to be a rockstar in candy crush. However, it is the perfect remedy for puzzle game lovers.
Final Words
So these are the best offline games for Windows. We have listed all types of games for your convenience. But which one are you picking from the list? Let me know in the comment section.