Whether you are a student or a professional, or just another normal user, note-taking is an integral part of our lives. You can't really expect to remember everything out there. Or If you like writing or make lists of daily tasks, and you just easily forget things, you should definitely use these note-taking apps.
Now all note-taking apps are not similar. They distinguish according to their features. But which note-taking app should you choose? Let's understand it with an example- People say that there's one perfect person for everyone out there, but that's totally a myth. There are millions of people out there who can be compatible with you.
The Success of a relationship or marriage depends on the efforts you put in rather than pre-existing compatibility. So like there's no such thing as a soulmate, there is also no such thing as the perfect-note-taking app. They are all different in subtle ways, and they have their pros and cons.
List of Best Alternatives to Google Keep You Can Use for Note Taking
If you try to find a perfect note-taking app, you will not get anywhere at all. What matters is finding that app that generally suits your personality and then knowing how to use it properly and make it work for you.
1. Microsoft One Note
It is a flexible and customizable note making app. It allows users to use both stylus and a keyboard. It runs on both Mac and Windows and is completely free. If you have an insane amount of notes, then this app is best for you. Unlike other note-taking applications, Microsoft OneNote is non-linear, which means there is no edge of the page.
You can type wherever you want and not just necessarily on the line. It has a special feature of OCR (Optical character Recognition), which helps you recognize an image's text. You can either invite someone else to collaborate on your notebook, or you can share on a specific page you can attach it as a PDF.
Download Microsoft One note
2. Evernote – Notes Organizer
Evernote is a powerful tool and basically available on every platform. It has a pretty capable rich text editor, can share notebooks with other people, tags, features to save searches, and a ton of different integration with other apps.
It also has a feature of optical character recognition (OCR), which means that you can scan in images with text, and it can make that text searchable. You can also annotate images in the app. One features it lacks is that you cannot create nested hierarchies of notebooks.
Download Evernote
3.
Google Tasks
With Google Tasks, you can create and organize your checklists in your day-to-day life, like before traveling or going to buy groceries. The design of this application is quite simple. If you are looking for something, then you can find it easily.
You can sort your notes according to the dates you made them & can also rename lists and delete them. It is one of the most downloaded applications because of simplicity & google's authority.
Download Google Tasks
Also Read- Best Work From Home Software to Work Remotely
4.
Standard Notes
It is the most security-focused app, as everything you write is encrypted by default, and only you can access it. If you upgrade to the extended version of the app, you get many extensions that you can optionally turn on or off.
Several editors choose from, including multiple markdown editors, a rich text editor, and even a code editor. You can choose which editor you want to use on a note by note basis & can create custom folders with your tags with define custom searches.
Download Standard Notes
5.
Trello
Organize your tasks & information with an attractive & simple layout. The whole layout is in the list format. You can make as many lists as you need on the Trello boards. Add cards to lists to keep track of everything you need to do or remember.
For example- Content to write, Bugs to fix, Leads to contact, and many more. For teams at companies, Trello Business adds up unlimited integrations, board collections, and more granular permissions. You can even Sync your data & access it on any device you want.
Download Trello
Also Read- Best Trello Alternatives For Project Management
6.
Dropbox Paper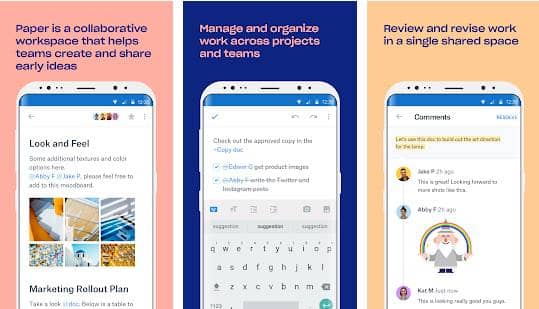 Looking for an excellent collaboration tool to easily collaborate with others. Through this app, you can edit and brainstorm ideas, review designs, manage tasks, and do many other things. Dropbox Paper solves a lot of challenges facing teams in today's remote environment.
It is handy when you need to bring multiple docs into a single workspace. It is handy for joint projects and presentations to managing team projects, work remotely with groups of people, track action items, and manage collaboration space. Multi-platform supportable make this application a handy note-taking app.
Download Dropbox Paper
7.
Simple Note
Simple Note comes with its own servers and offers a clean note-taking service. One unique feature that it offers is that you can collaborate with other users to work on a single note. Stay organized with your notes & pin your important notes with just one click.
This app is not fancy in UI, but if you are looking to make notes & organize them with tags, you can definitely need to try this application. We assure you, you'll not get disappointed.
Download Simple Note
8.
Potato Notes
'Yet another note-taking app' but with a beautiful UI, Open Source, and native sync. It's a great alternative for Google Keep, but there's a drawback that you cannot insert any drawing.
If you want to protect your notes, which contain personal details like passwords or pins of your bank account, then you can lock those notes with a pin or password for hiding them on the main menu, which makes it a super attractive & very secure note-taking app to save your credentials.
Download Potato Notes
9.
Todoist
The best to-do app out there in terms of features and capabilities. You can organize your days & can also set reminders of important tasks. If you are looking for any app to plan your whole with proper scheduling, you can definitely go with it.
It comes with a simple, clean & colorful UI. Track every single thing with this marvelous app & enhance your productivity level. It's a multi-platform app to track your projects, goals & habits.
Download Todoist