Netflix won the US already, now it needs to gain the rest of the world. And there are only two specific ways to do so; either by making more engaging content or by lowering the price. While it succeeded in the former part, it's still struggling with the subscription prices in developing countries. One such market in India and Netflix has just come up with a clever plan to advertise itself.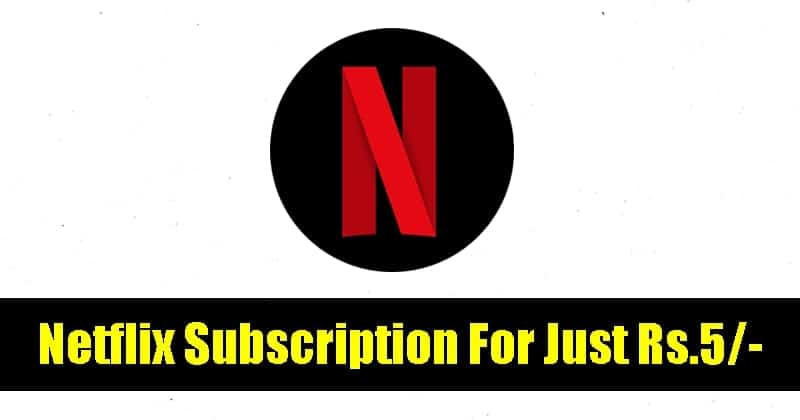 Ever thought you could watch Netflix shows for a price of Rs.5? I guess you wouldn't have a dream of this even. But here is it, Netflix India is trailing with a new advertising tactic to gain users attention. And it's by offering its (any) subscription plan for Rs.5 only! Under this, new users should register themselves in Netflix via Android app or website. And if they're eligible, they'll be shown a page of the discounted price (Rs.5) to any of their subscriptions to purchase.
But, there's a catch
This isn't for everyone! This offer will not be showing up for current users, and will only be available for random new users! Netflix says that only randomly selected new users can see this discounted price to avail. So your luck plays a lot here! Further, the subscription take for Rs.5 is only valid for the first month only. You'd be charged (can be cancelled) for the initially selected plan later on, subsequently.
But Why?
This could be a clever move to gain account registrations. Ever since Netflix stopped its one-month free trial in December last year, users are left with two other options of either subscribing to it legitimately or to buy in the form hacked accounts. If not, they'd just be dropping their hopes and turn to torrents.
So to cater to their needs and let them have a full taste of their service, Netflix should be trying out new methods to gain userbase. So here it is one. A Netflix spokesperson said,
"This is a new marketing promotion designed to help more people discover Netflix. Depending on its success, we may roll it out more widely."