Everyone has multiple accounts over multiple networks, websites, and apps in the modern world. And due to security reasons, you need to keep unique passwords for all of them. It is troublesome for many people since it's not easy to remember and maintain unique passwords for all your accounts.
It is why most people use Password managers to store their passwords safely. Password managers are a great tool to securely save all your passwords on your device so you won't have to remember them. Today we are discussing the best password managers which you must try.
Before starting the list, you might ask – why is there a need to install a password manager? The answer is simple. It would help if you had a password manager because it's safe, secure, and convenient to use. Not only do they save passwords, but they also help you to reset them in one single click. So, let's start with the best Password managers without a further due.
Also Read- Best Ways To Protect a Folder with Password in Windows
List of Best Password Managers for Windows, Android & Mac in 2022
Although there are many password saver applications available for all sorts of platforms, today in this list, we will try to list all the Password managers who are easy to use, cheap (probably free), and available for multiple devices.
1. LastPass Password Manager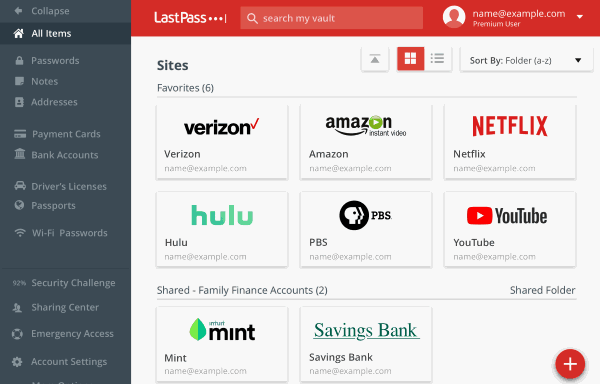 LastPass is the prime example of a great password manager. It comes with both a free and premium plan, which you can activate for cheap. It can save all your passwords with a single master password.
LastPass also gives you the feasibility of changing or reset passwords with one click. And if you're worried about losing all your passwords, then don't worry as it got two-factor authentication, which prevents your password from unauthorized use.
Available for: Windows, Mac, iOS, Chrome OS and Android
2. 1Password
1Password is another nice password-saving tool that also includes a password generator. The password generator features help you create an unbreakable password for all your online accounts. The great feature about 1Password is that it actively watches ongoing website breaches.
So if there is one, it will automatically warn you to change your password. Which is a great security feature? Also, you can save up sensitive information such as credit card details, sticky notes, memos, and other digital stuff.
Available for: Windows, Mac, iOS, and Android
3. Bitwarden
Bitwarden is one of the most underrated password managers of all time. It is open-source, so it is free to use until you need the premium features. The software is audited by independent security researchers and other third-party security auditing firms.
Bitwarden costs only $10 a year, which comes with free 1GB of encrypted cloud storage. It has a two-step login option, TOTP verification, 2FA generator, and much more.
Available for: Windows, Mac, Linux, iOS, Web, and Android
4. Dashlane
Dashlane is an intuitive yet simple password manager with plenty of useful features. It also doubles web security and protection as it protects from password frauds, online purchasing, and password theft. Not only can you store your passwords, but reset them with a single click.
Also, if you're worried about password sync, then don't, as it will store your passwords locally on your device with powerful encryption. Dashlane also comes with a digital wallet to securely store your sensitive data such as credit cards, PINs, social security numbers, etc.
Available for: Windows, Mac, iOS, and Android
5. Keeper Security Password Manager
Keeper Security is one of the most scalable password managers out there. It provides password-saving solutions for business, enterprise, family, and personal use. Keeper Security Password Manager is very secure as it has two-factor authentication and secure file storage. Keeper Security has various features, including version history — which can restore previous versions of your records if something goes wrong.
Available for: Windows, Mac, and Linux
6. KeePassXC
KeePassXC is completely free to use the Password Manager, which is equipped with some serious features. The user interface is not user-friendly, but if you're looking for a free password manager, then KeePassXC is the best choice for you. It works with almost every device and supports password sync as well.
Available for: Windows, Mac, Linux, Chrome OS, BlackBerry, Windows Phone, Palm OS, Android, and iOS devices.
7. Enpass
Enpass is surely one of the best free desktop password managers. Plus, if you are looking for a premium plan, Enpass offers perfect value for money. This application looks after all the basics and helps to keep data offline seamlessly.
However, it does not provide any of its own cloud-syncing features. As a result, you will need to sync your device through some other service such as Dropbox. Apart from that, it can handle some amount of biometric logins, but there is no two-factor authentication available.
Available for: Windows, Mac, Android, iOS, Linux, Chrome OS
8. RoboForm
RoboForm has been in the service for quite a long time and is well known for its robust form filling. It runs on several operating systems and provides a pretty good amount of features. You will get all the essentials such as a password generator, password sharing, two-factor authentication.
However, their web interface is read-only, which might even be a little confusing for newbies. On the other hand, RoboForm has done a remarkable job in its mobile phone application that comes with fingerprint support.
Available for: Windows, Mac, Android, iOS, Linux, Chrome OS