Plex is one of the best Media servers to store pictures, videos, and music on smartphones or PCs. Even though there are many video and music streaming apps available, these Media server apps are here. The media server apps can easily manage files, and you can create your own Netflix with the help of the customization tool. To create your library and organize it well.
All the Plex users can only play online content from the media server, as it has multiple streaming portals and services like Netflix and YouTube. Plex has a free version but does not support all the features. The paid version gives parenting controls, DVR & Live TV, and mobile sync access. However, this app is not for everyone, so the best alternatives to Plex come here. If you want easy streaming media, check out the Plex Alternatives list given below.
Also Read- Best Free Live TV Apps
List of Best Plex Alternatives in 2022
Many media server apps are available in the market, but not all of them are good. Furthermore, all the apps do not provide helpful content and management. So, to get rid of all such problems, here are the best Plex Alternatives you can use.
1. Kodi
Kodi is also known as "XBMC." It is a free software solution that is an entertainment center and software media player. One of the best Plex alternatives is Kodi, as it can be a digital media source for home theatre computers.
This software media solution offers different hardware platforms and operating systems with high compatibility. It offers all the vital elements like you can organize the media content easily through UI, which supports audio, video, and picture formats. One of the best things about this software is a free app.
It has neat artwork and has different categories. You can create a library of your favorite movie collection, and it looks great in a separate section. There is a personal slideshow that gives fun to share your photos.
Available on Platforms: Windows, macOS, Android, iOS, Linux, Raspberry Pi,  Amazon Fire TV, Nvidia Shield, Xbox, and more.
2. Universal Media Player
Universal Media Player is the best alternative to Plex. However, it does not have an elegant interface, but it offers many great features. One can manage the media efficiently with this software. It has a powerful transcoder and supports many different media formats. So, with this app, you don't need to worry about which media formats you have. It will allow you to do whatever you need.
Available on platforms: Windows, macOS, Linux, NAS Devices
3. Emby
Emby is a simple software that has great flexibility to keep all the media well organized as you keep in Plex. You don't need to keep your media in the right order, as an auto-organization function is available. In addition, it automatically converts the media in real-time so that you can easily stream it on any device.
It has a tremendous neat and clean interface to navigate your files quickly and access them. In addition, the user can easily stream live TV without any internet issues. Like Plex, this software also offers a super handy parental control feature that allows you to control any content.
As usual, the free trial doesn't give access to all the features, so you need to get the Premium version for $4.99/ month and get all the features.
Available on Platforms: Windows, macOS, Android, iOS, Linux, Web, Roku, Apple TV, Android TV, Amazon Fire TV, NAS Devices.
4. Media Portal
Media Portal is an entertainment hub that handles media and monitors the entire library. It has so many great media organizing tools. Just like Plex, it also allows you to deal with different files. While talking about streaming, the Media Portal is compatible with many different media formats. While streaming, there won't be any buffering.
Available on Platforms: Windows, Android, Web
5. Windows Media Services
Windows Media Services is the best if you are a Windows user. With this, you can comfortably create streaming media and manage your files with valuable tools.
It supports only a few formats like Windows Media, JPEG, and MP3 formats. Windows Media Services has a clean User Interface and also has great compatibility. Even though it doesn't have high-end features, you can easily use it. To use it, you need to download and install it with Windows.
Available on Platforms: Windows
6. Streama
With the help of Streama, one can have their personal Netflix. It has an excellent user interface and is very easy to use. As per your choice, you can organize the files. Episode Browser helps you to keep your episodes tab and access them easily. You can see all the recently watched movies, and you can start watching from where you left.
Available on Platforms: Windows, Linux, and Android
7. OSMC
If you want a free and open-source media server app, then OSMC is the one. The look of the app is modern, which grabs the attention of everyone. Moreover, one can easily create the media server with OSMC and export the files easily.
You can quickly access your media with the help of FTP, SMB, or UPnP protocol. One thing that makes this app unique is its App Store inside, with which you can download plenty of music and TV services.
Available on Platforms: Vero, Raspberry Pi, Apple TV
8. Serviio
Serviio is one of the best Plex alternatives and it is also quite popular among users. The app is great if you want to have one app with perfectly organized media to stream. Users can easily stream all media files, including music, movies, images, etc. This app is on their supported TV, Bluray player, games console, and smartphones. 
On top of that, the app also comes with the support of Alexa, so that you can use a voice assistant with this app as well. In addition, Serviio provides you with streaming content from various apps at an affordable price. It is also compatible with Windows, macOS, Linux, and NAS Devices. Overall, the app is just great and it comes free and offers a subscription for more features. 
9. Stremio
Next up is Stremio and if I had to put it simply, this app is just a more fun version of Plex. The app gained a lot of popularity over the years and it is an excellent alternative for Plex. The app is quite simple and easy to use and it organizes the content from popular streaming services such as Amazon Prime, Netflix, etc. 
It is an open-source media server and brings you the content from various streaming providers to just a single easy-to-use platform. The program also considers all of your video clips, displays, and movies when you build a library on your computer. On top of that, this service also comes with an integrated calendar that helps you keep track of new releases and new movies. It works great on all the major operating systems such as iOS, Android, Windows, macOS, Linux, etc. 
10. TVersity
Just like the fancy name, TVersity also brings a lot of fancy features to your streaming experience. First, it allows users to stream their PC content to different devices using DNLA/UPnP technology. Then the app also transcodes all the corresponding files in real-time. This means that pictures, songs, and videos indexing is automatic and always up to date.
With this app, you can pretty much play any content on any supported device. Also, this app is way better than Plex when it comes to effectiveness. It allows users to integrate plugins with external media sources. The app works seamlessly on Windows, iOS, Android, Xbox 260, Roku, Chromecast, etc. 
11. Jellyfin
Jellyfin is also an excellent Plex alternative as it allows you to collect, manage and stream your media seamlessly. With this media software, you can control media while streaming the content from any device from your server. Providing users with this level of control, this app is an ideal media server. 
Users can easily collect, manage, and stream their favorite music, movies, Live TV, TV shows, and DVR. The app allows you to stream media from your PC's browser and it can seamlessly work with Android, iOS, Roku, FireTV, Chromecast, etc. There is no provision for tracking with this software and as a result, you get open and transparent software. Also, the software is free to use and does not have any hidden costs.   
12. Ampache
Next up is Ampache and it is not ideally an alternative for Plex, but it still has a lot of cool features. Ampache is simply a web-based audio streaming service and a file manager that allows you to easily access all of your music on any device that has internet at any time and any place. 
It offers support for MPD and the great thing about Ampache is that this app is free and open-source, unlike many of the other apps on the list. Having this app on their device is a must for users who are really into music and have a particular taste. It works seamlessly with macOS, Windows, Linux, Android, and iOS. 
13. Vidics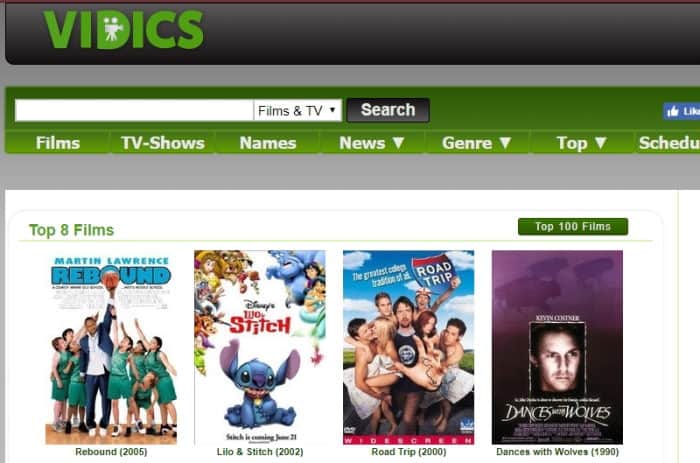 Vidics is the perfect media server for all the people who have a hard time finding ideal content that they can watch. The site lists tons of fun movies and stuff that you can stream and the categories and genres are more than enough for any hardcore fan. Then there is a separate column for the latest pop culture news related to movies and celebrities. 
With a few simple steps, you can start streaming your favorite movies & TV shows on Vidics and the site are free to use, so you will not have any problem at all. Vidics is a well-kept secret in the community and you can fully utilize it. 
14. Popcorn Time
If you are looking for a free alternative to subscription-based services like Netflix Amazon Prime & Plex, Popcorn Time is one of the best platforms. This platform uses sequential downloading from several torrent sites to stream a video and for the most part, the app works great. The only catch is that this app is banned in many regions. So you might have to use a VPN to bypass the geographical restrictions.