Google has been the top search engine for a long time, and it will be for many more years. Because of its ease of usability and fast results, many people prefer Google.
However, even Google fails when it comes to searching for torrents. In the case of downloading games or other media files, people prefer to use torrents.
However, most of these websites are blocked in certain regions or countries. So it is better to use a torrent search engine than traditional search engines to look for active high-speed torrents.
Today hundreds of options are available on the internet to download torrents. But searching torrent files on the internet is still complex and time-consuming. So to make it easier, many users use the Torrent search engine.
These engines list only torrent websites and magnet links. They are similar to other search engines like Google or Yahoo but show torrent websites and portals only. So you can find your favorite torrents easily. Here is a list of the best torrent search engine sites that still work now.
Best Torrent Search Engines of 2023
If you want to search for anything on Torrent, these search engine sites will help you save time and effort to find the best torrents. You can find movies, podcasts, tv shows, music, ebooks, and games.
1. The Pirate Bay
The most popular BitTorrent site ThePirateBay was founded in 2003 by the Swedish anti-copyright organization Piratbyrån. It is a website where people can look for torrents and their magnet links. Unfortunately, the website is facing many charges and lawsuits for copyright infringement.
However, they have multiple proxies running on their server. It has an extensive browse function where you can see different categories like Video, Audio, Games, Tv Shows, Movies, and more.
Website URL: https://thepiratebay.org/
2. RARBG
RARBG is one of the top-visited torrent web-searching portals. It was founded in back 2009 when torrents were not that popular. The site is pretty basic but functional to this date. You can either find RARBG proxies or the official site.
You can quickly download torrent files and magnet links without irritating advertisements. However, since RARBG is blocked in many counties, we advise you to use a free VPN service to access it. 
Visit Rarbg
3. XtorX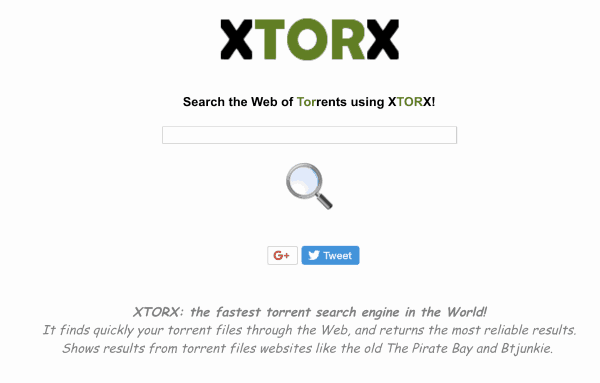 XtorX is one of the best Torrent search portals you can use today. The user interface of this website is pretty basic, clean, and simple to operate. XtorX uses the google custom search feature to look for active torrents in different website directories.
You have the torrent name, which will eventually show various download links. But there is no filter support, so you cannot narrow down your search results based on different filters. 
Website URL: https://www.xtorx.com/
4. Torrent Seeker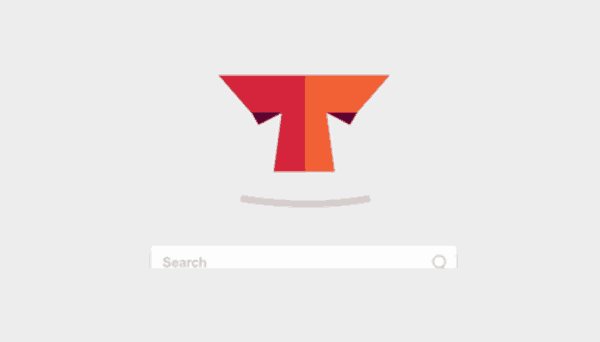 Torrent Seeker is clean and one of the best-designed torrent engines available on the internet. The user interface is just wonderful and easy to use.
It has a large user base since it is famous for searching for accurate torrent results. TorrentSeeker uses the Google custom search feature and provides you with the top 150 torrent websites.
The search results are based on several niche websites. In addition, torrent Seeker regularly updates the torrent index, so if you're looking for something quite new, you can easily find it.
Website URL: https://torrentseeker.com/
5. Torrents.me
Torrents is one of those well-designed torrent search engines. This website has a built-in system to rank different websites for niche torrents. It generates and creates reports from Zooqle, TorrentSeeker, and Torrentz2. The search engine's homepage also offers a quick look at the most popular torrents.
Website URL: https://torrends.to/
6. Zooqle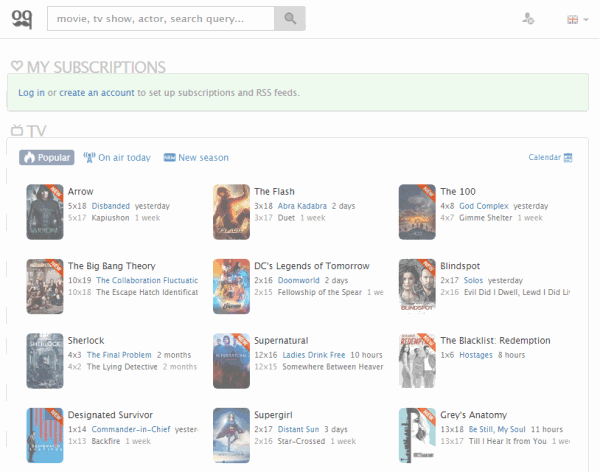 Zooqle has an interface similar to that of some social media websites. It shows the most popular categories on its landing page. You can see many movies, TV shows, and music.
The best part is they verify every torrent before making it available for the users to download. It contains movies in "HD," "Full HD," and even "3D" format. You can also download torrent files using magnet links.
Website URL: https://torrents-proxy.com/zooqle/
7. Snowfl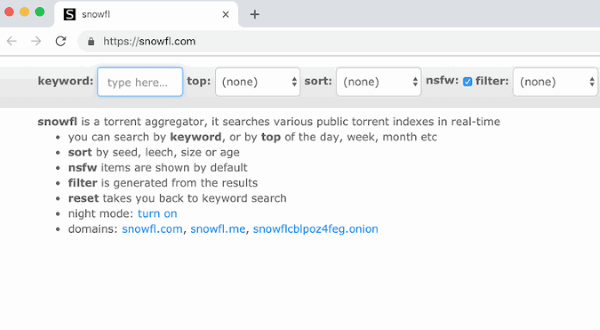 Snowfl is a reliable torrent search engine that seems to be for advanced users. It has a minimal interface but provides several features for the search filter. It is not quite popular, but it can show that what you are looking for is available on which site. Unfortunately, they do not offer any graphical UI like Pirate Bay, LimeTorrent, etc.
Website URL: https://snowfl.com/
8. Torrentz
Without Torrentz the list of the best torrent search engine sites is incomplete. It has a large number of torrents which is roughly 31,102,502 active torrents from 125,464,743 pages on 26 domains.
Even though the original site has been dissolved, mirror sites are almost like the original site. The UI of the site is neat and clear; searching for any content is child's play. However, you can use this site for movies, music, games, and software.
Visit Torrentz
9. Veoble
Veoble looks similar to that of the Google search engine. This website is gaining popularity very fast. It provides options for both images as well as torrent searches.
It uses the Custom Google search to generate its result. Veoble generates its revenue through ads using Google Adsense.
Website URL: http://veoble.com/
10. LimeTorrents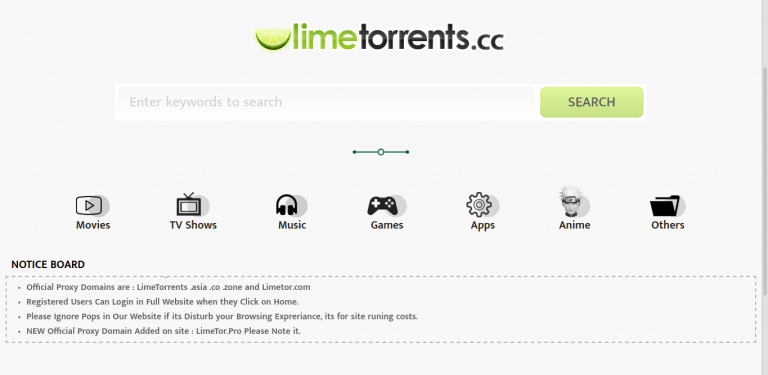 Limestone has a simple-looking interface with a contrast of black and lime color on its homepage. At first glance, it looks like just another normal search engine site but it contains much more.
This website has access to a huge library of torrents that you can download via BitTorrent. In addition, it has a great collection of movies, software, music, etc.
However, the other pages are not as well designed as the homepage. Nevertheless, it is still preferred by most people, which makes it quite a popular torrent search engine site.
Website URL: https://ww3.limetorrents.cyou/
11. AcademicTorrents
As the names suggest, the website is based on academics. First, this is not an illegal website and not for downloading pirated movies, games and music. The University of Michigan and the University of Texas developed this to share Academic files over the internet via torrenting.
On AcademicTorrents, you can browse datasheets, peppers, courses and collections. Currently, they have three team members Joseph Paul Cohen, Henry Z Lo and Jonathan Nogueira. So if anyone wants to access or share large datasets, this is the best torrent site.
Website URL: https://academictorrents.com/
12. iDope
iDope is one of the well-known torrert search engines that work in almost every country across the globe except a few. Although it's the newest name in the torrent industry, within a short time, it becomes the hottest one.
You can search for anything you want on the website, as it has featured movies, apps, software, music, anime, and many more. Also, provide good security. You can see on the website, they have mentioned, iDope doesn't track users' information.
Visit iDope
13. AIO Search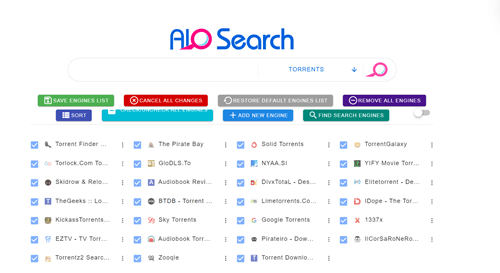 If you are actively looking for a torrent search engine cum torrent repository, then look no further than AIO Search. Like other torrent search engines, here you can search various things according to your preference.
You can either use other torrent repositories or search directly on AIO Search. However, there is an option to sign up, which you can consider depending on your usage. All in all, it's a handy torrent site with smooth and clean user interface.
Visit AIO Search
14. TorrentHound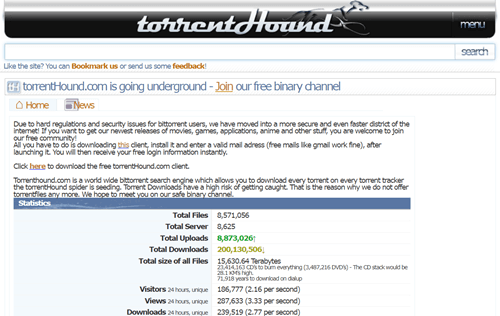 It's true – TorrentHound has had a remarkable journey since its launch. With so many ups and down still manage to survive. Even though its user interface may look old, it's the powerhouse of torrent files and magnetic links.
However, you can use this torrent search engine for music, videos, movies, series, TV shows, software, apps, and many more. The best thing is that it has more than 8.5 million search-indexed files.
Visit TorrentHound
15. P2PGuru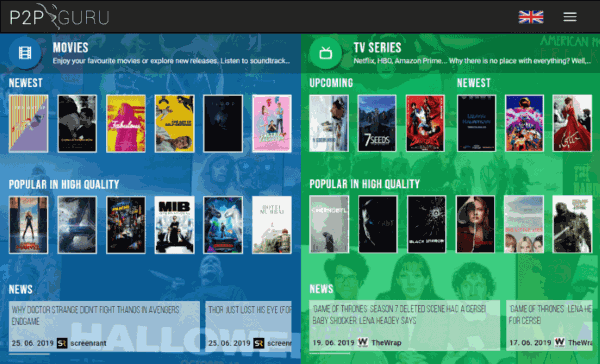 P2PGuru is a new contender and probably the most refined torrent search engine on the internet. It is community-based, so in case a problem occurs, it will be fixed instantly. This site is free to access and provides more search features than any regular torrent site.
You can also get an ad-free experience, so there will be no annoying pop-ups or link ads. In addition, you will find torrent downloads in multiple formats and qualities. These include HD, Full HD, or 4K video material and offer high-speed downloads.
Website URL: Not Available
16. Toorgle
The torrent search engine Toorgle looks like Google. It is because the Google search engine inspires the design. Also, since it searches directly with Google, the search results are pretty fast and accurate.
It has a website index of more than 500 different torrent websites. It even has a browser extension, making torrent searching much easier. However, the website is brimming with ads, so you might want to use the adblocker service.
Website URL: Not Available
These are the best torrent search engines on the internet right now that help you to find any desired movies, ebooks, music, or game you want. But we recommend you guys add an extra security layer while browsing these sites for more protection. You can use VPNs to change your IP address and hide your identity.