You must have seen many prank videos on social media. People love to pranks their friends, relatives, and family. Whether it is an ice bucket prank or a normal text message prank, it's always in trend. The main reason behind this could be the fun and excitement of getting caught.
Besides making fake prank videos, you can also make fake screenshots of text messages with these fake text generators. And the best thing about this is that you will not get traced. But make sure you don't use these sites for illegal activities such as threatening people. If you do this kind of illegal thing, your IP address can be traced.
Also Read- Best Spoof / Fake Call Apps for Android
List of Best Fake iPhone Text Generator Tools
Many sites help you create fake chat message conversations. You can create a screenshot that looks exactly like your iPhone. You can have your own world of imaginary conversations with your favorite celebrities or your college/school crush.
These sites can also be used to con and make pranks on your friends and family. Making fake screenshots is super easy with the help of these sites.
1. iOS.foxsash
You can send green as well as blue texts through this fake text generator site. Emojis and images are also there to make your texts more interesting and attractive. This site is reliable and looks very Professional.
If you want to give your fake chat a super real look, then there are many cool features and customized items like battery, Wi-Fi/data connection, the type of phone you are using, and many more. After deciding all this, you can save the fake chat, and you are ready to go.
2. iOS8text
This site makes your fake chat look totally real. It has an option showing different connections like 3g, 5g, or Wi-Fi. So if the person you are showing the fake chat knows which connection you use, it'll be easy for him to catch you. This feature of network connection helps you to make a realistic chat.
iOS8text offers one more color other than green and blue, which is a grey color. You can also decide a time at which you want that chat to be. For example, 9:41 AM. You can also add a random name to your chat.
3. iOS7textgenerator
It's almost similar to iOS8text. All features are identical. The only minor difference it has is that this can only be used on iOS7 iPhone. This site creates Fake iOS7 iPhone messages. You can easily make a fake chat, and there's a 90% chance that you'd not get caught.
You can even write an iMessage and upload a photo from your desktop or smartphone. Also, it's not necessary to show all the features. It's up to you if you want in your fake chat or not.
Also Read- Best Websites to Generate a Fake Identity
4. iFake Text Message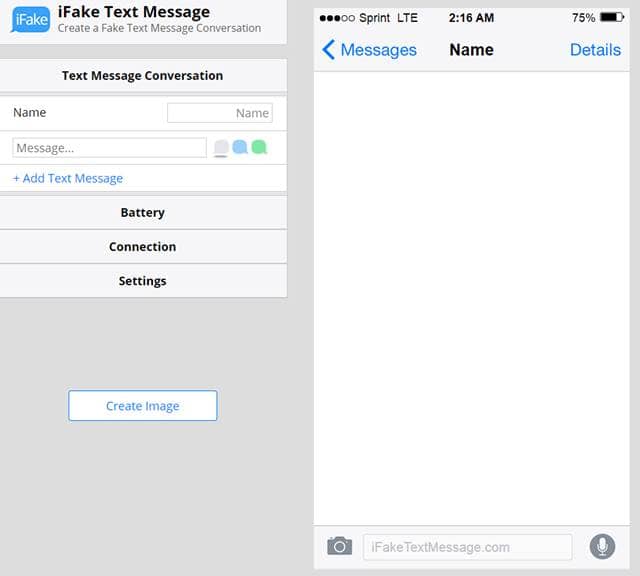 iFake gives you a tutorial on how to create fake iphone text messages. You can do it in no time. It's that easy. If you want to become a prankster, then start with this site. It has an easy to use interface. Features like connection, settings, Battery, or name are particular and have their own unique functions.
If you have any query like how to create a fake text message or How an iMessage is different from a Text message, you can get the answers to these questions in the FAQ section of this site.
5. Simitator
This one is for pranksters. It has all the fake generators you can think of. From Fake Tinder Profile and Match to iPhone iOS7 Text generator, it has it all. The features are the same. It will generate a fake chat according to whatever information you put in. If you want to increase your Facebook status, then this site is best for you.
Let's suppose you want to boast in front of your friends that your status got 5000 likes on Facebook. Of course, they wouldn't believe it, so this site will help you to generate a fake image of fake likes on your fake Facebook status. Through this website, you can generate whatever text you wish.
6. Fakeimess
It has the coolest interface providing users with the simplest and so many options. The best thing about it is that it's totally free and accessible. In addition to that, you are also able to add the name of the operator.
If you use Vodafone, you can type in the 'operator' section. Or if you use some other sim, then you can change it to that operator. This is the unique feature available in this fake iPhone generator, which we personally like.